Welcome to 810 Freshmart
810 Freshmart is an online fresh groceries apps that helps you save and gain discount without punching a hole thru your monthly quota for groceries. You spend LESS and GAIN MORE.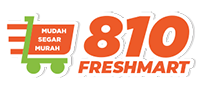 Birth of 810 Freshmart
810 Freshmart is here to help all the co-operatives' members in Malaysia to shop for their daily necessities products at a BARGAIN and providing best saving and huge DISCOUNT.
We are confident that we are able to elevate the lifestyle and spending of all the co-operatives' members with the saving they gain from 810 Freshmart.
Why use 810 Freshmart?
Save as you buy
SAVE till your heart's content. The more you BUY, the more you SAVE. We will be offering different discount, value buy and additional price knock-off in our DAILY BUY area. Don't miss out.
Huge range of products
We offer a huge range of daily necessities products to cater for your everyday needs. Low on oil, salt, sugar and other? Not to worry. Just a few clicks and we will deliver and you will SAVE.
Bundle Products
We offer bundle products for your monthly subscription.
No headache going thru supermarket alley to pick it one by one.
Secure Payment
Your security is our priority. We offer secure payment for your ease of mind.
Fast Delivery
Just a few clicks and your groceries will be there in 2 days time